---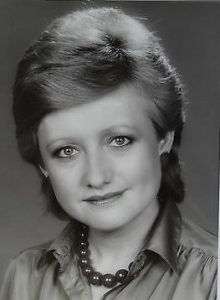 Chrissie hosted a variety of shows on Radio Victory from the mid 70's, before heading off to TVS.  She could often be heard following the breakfast show with a programme called "Trends", a magazine style show with daily advice , guests and listener phone-ins.  Chrissie would often present a late night phone-in programme too, with topics that in the 70's & 80's were considered very much taboo, but very much ground breaking.
Chrissie combines a rare strength-and-depth with a pragmatic skill-set in media. This has been acquired through decades of work for newspaper journalism, presenting for morning BBC television programmes, as well as presenting and producing in BBC radio stations abroad and in the UK. She has played an active and distinguished part in programme sequencing and broadcast content management for start-up, local and community radio stations and TV.
Connecting charities and local communities with radio and TV broadcasting have earned her national recognition. She has also accomplished successful radio presenting and consultancy assignments in Cologne, Malta and South Africa.
Chrissie believes that excellence in broadcasting standards across all media platforms can be achieved. Her strongest media values, her understanding of what makes compelling news content and journalist investigative reporting, were crafted in her earliest years in newspaper journalism. The pursuit of standards of excellence passionately drives and defines Chrissie's work.
Chrissie is passionate about local radio and is as excited to come back to Victory as we are to have her back!
---