---
Home-made pizza with part-bake baguettes: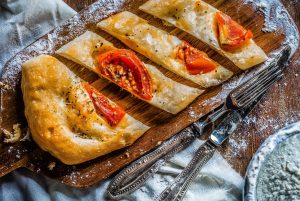 Ingredients:
1 medium part bake baguette per person
Tomato based sauce like Arrabiata
Toppings of your choice;
(suggestions) Red peppers, tomatoes, sweetcorn, ham, chorizo, tuna, fresh herbs
Cheese of your choice;
(suggestions) Mozzarella, Emmental, cheddar, blue cheese, etc.
Dried herbs, salt and pepper to taste
Method:
Split open your part bake baguettes and lay on a baking tray.
Spread generously with arrabiata or tomato-based sauce
Pile on the pizza toppings of your choice
Sprinkle with fresh or dried herbs
Top with cheese.
Bake in the oven for approximately 12 minutes until the bread is cooked through but still soft and the toppings are softened and hot.
Devour!
** Please Note, the above image is for illustration purposes only. **
---
Reader's opinions
---