---
Vegetable Lasagne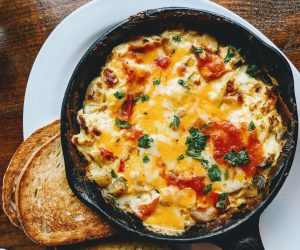 Ingredients:
A box of no soak, ready to use lasagne sheets
Mixed vegetables; broccoli, carrot, peppers and mushrooms
White sauce – 2 oz butter, 2 oz flour, milk, salt and pepper
Tomato sauce – a big jar of good quality ready-made tomato-based sauce is fine
Cheese to sprinkle ( Parmesan or a good strong cheddar)
Method:
Cut the veggies into small pieces and cover everything in a drizzle of olive oil and sprinkle on some dried herbs. Into the oven for about half an hour at 190°.
For the white sauce, first make a 'roux' – melt your butter and add an equal quantity of flour and whisk together until thick and completely combined. That needs to cook through, but not burn – so keep mixing. Once completely combined and smelling toasty without too much colour, start adding small amounts of milk, a little at a time, until you have a creamy white sauce about the thickness of double cream. Add salt, pepper and give it a taste to check that it tastes 'cooked'. If not, keep simmering and whisking on a very low heat until it tastes good. The 2 secrets are; keep stirring and keep tasting! Once ready, take off the heat and leave to one side.
Take the roasted veg out of the oven
Find a really good quality jar of tomato sauce. You can find these in any supermarket and most of them are already well-balanced sauces, often full of veggies, herbs – maybe you can choose a 'Provençale' sauce or a tomato and basil – whichever is your favourite.
Start with a layer of those delicious roasted vegetables, then a layer of lasagne. Cover that completely with a layer of the tomato sauce and then start again – veggies, lasagne sheets, tomato sauce, veggies, pasta and on this last layer we are going to cover with the thick white sauce. And to finish it off – a good sprinkle of a strong cheese.
Into the oven for 30 – 40 minutes and once is hot bubbling and browned on top it's ready to eat! Give it a try – you won't even miss the meat.
** Please Note, the above image is for illustration purposes only. **
---
Reader's opinions
---