---
Bakewell Tart: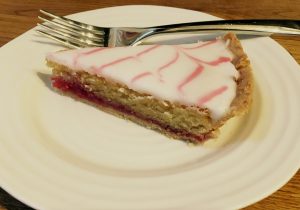 Ingredients :
Filling:
125g of shortcrust pastry – home made or ready roll
Filling:
½ jar of raspberry or other jam
75g butter
75g caster sugar
1 large egg
Zest of a lemon
3 tablespoons of flour
120g of ground almonds
1tsp almond essence (not essential but DEFINITELY recommended)
½ tsp baking powder
Topping:
Juice of half a lemon and icing sugar to form a drizzle that keeps it's shape.
Method: 
Put oven to 180° C
Place pastry in a pie dish and bake until just starting to change colour (15 to 20 mins)
Remove from the oven and allow to cool a little.
Spread the jam onto the pastry case
Prepare the almond filling by creaming the butter and sugar, add the egg and almond essence and fold in the ground almonds, flour and baking powder.
Spread carefully over the jam and put back into the oven for approximately 25 minutes until slightly risen but not over baked
Leave to cool.
Mix the lemon juice and icing sugar and drizzle over the cooled cake.
Delicious cold, even better still warm!
** Please Note, the above image is for illustration purposes only. **
---
Reader's opinions
---