---
Falafel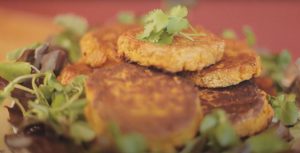 Ingredients:
1 mug of dried chick peas
3 mugs of water
1 red pepper
A couple of carrots
1 red onion
3 cloves garlic
Small tin of sweetcorn
Spices to taste (Such as ground coriander, cumin and a large pinch of salt).
Chick pea flour
Method:
Start the recipe the night before. Put a mug full of dried chick peas into a bowl and cover them in 3 mugs of water. Overnight they will have absorbed pretty much all the water and be swollen and a little softer.
Drain off the water and throw the chick peas into a food processor and blitz away! Pretty soon you'll have a big crumbly mess which I'm going to tip into a big bowl.
Then I'm going to do the same with a drained tin of ready cooked chick peas. Process them and add them to the bowl.
Now add veggies to my falafel – chopped into very small pieces, either by hand, or again in a processor or grater. Try a red pepper, a couple of carrots, some red onion, some garlic and some sweetcorn. Add everything to bowl with the cooked and uncooked chickpeas.
Lastly add the dry ingredients. Garam flour, (that's chick pea flour, but actually any flour would work), and the dried spices and salt.
Mix that all together until its starting to clump and form into small balls.
You can either use a deep fat fryer for maximum flavour, or shallow fry, or even bake if you are feeling health conscience. Just make sure they are golden brown. Fry a few at a time so that the temperature of the oil stays hot for maximum crispiness!
You can make these in advance and reheat them just before you eat them, but they are best eaten hot from the fryer (be careful!!), stuffed into pitta bread with sauces of your choice and shredded lettuce.
Enjoy!
** Please Note, the above image is for illustration purposes only. **
---
Reader's opinions
---