---
Fried aubergines with feta and sun-dried tomato: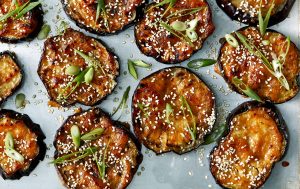 Ingredients:
3 aubergines (long and thin if possible)
2 cloves garlic, minced
200g of feta cheese
Olive oil,
Salt and Pepper
A handful of parsley
About ½ jar of sundried tomatoes
A little lemon juice
Method:
Cut some slices lengthways from the aubergines about 4mm or less.
Coat each slice generously with olive oil on both sides and sear these on a hot frying pan or griddle.
Put them on some kitchen paper to drain a little of the excess oil.
In a small frying pan gently fry the minced garlic. Be careful it doesn't burn! You just want to take the rawness out and mellow the flavour to give it a little bit of sweetness.
Throw in the finely chopped parsley and stir for another minute or two.
Add a squeeze of lemon juice to taste and a little salt and pepper. Set marinade aside.
Cut the block of feta into fat matchstick lengths. You need 1 matchstick per aubergine.
Put all the pieces into a dish and drizzle over the marinade. Preferably, you want to leave this to marinade for an hour or two, but you can assemble the aubergine rolls straight away.
Take a slice of aubergine, lay a matchstick of feta and one of sun-dried tomato on one end, drizzle over a little extra marinade with some of that lovely garlic and parsley, roll it up and secure with a cocktail stick.
Repeat until all the aubergine slices are rolled up.
These can be served cold, but they are best gently warmed in the oven just before serving.
Try it for yourself!
** Please Note, the above image is for illustration purposes only. **
---
Reader's opinions
---