---
Victory Online Recipes – Ginger Syrup Pudding
Sticky Ginger Syrup Pudding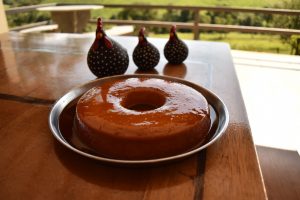 This pudding is quick and easy enough to be rustled up in minutes – sweet and sticky, it's a real crowd pleaser,  and I'm going to show you two methods – a 45 minute method and  a 10 minute method.
– whichever method you chose, the ingredients are the same –
Ingredients :
175 grams of butter.
175g of sugar, preferably demerara, but white is fine.
175g of self-raising flour.
A heaped teaspoon of ground ginger.
2 tablespoons of golden syrup.
3 eggs.
Method :
In your mixer, or a bowl, cream the butter and sugar until white and fluffy and add your eggs slowly one at a time.
Once the eggs are well blended, add your flour and ginger and mix very briefly until just incorporated.
For the 35 minute pudding  grease a rectangular cake tin and into the bottom  drizzle the two heaped tablespoons of golden syrup, making sure it covers the whole of the bottom of the dish.
Then, carefully spoon dollops of the pudding batter over the top, making sure all of the syrup is covered and there are no gaps
Put the pudding into the oven at 180°c for half an hour.
To serve, cut it into squares – large ones –  and as you put it into a bowl, turn it upside down to discover a glorious sticky syrup which now becomes it's topping! Custard is the best accompaniment of course!
15 minute microwave method :
Make up the pudding batter as before
This time  use a 2 pint pudding basin because it's round and it will fit in the microwave. Grease the inside, pour in the golden syrup and all the pudding batter can be poured on top. This is going to look like a real traditional pudding when I turn it out because of the shape!
4 minutes in the microwave or until set – depending on the strength of your machine.
Turn out onto a plate and serve!
** Please Note, the above image is for illustration purposes only. **
---
Reader's opinions
---