---
Victory Online Recipes – Lemon Curd Cupcakes
 Lemon Curd Cupcakes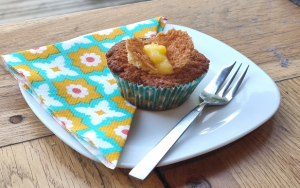 Ingredients:
170 g each of butter, sugar and self-raising flour
Grated zest of a lemon
lemon essence
3 eggs
A splash of milk
Method:
Cream your butter and sugar until white and fluffy;
Add your eggs one at a time;
Slowly add the flour, sifting  as you go and giving a brief mix after each  addition.
Add the grated peel of an organic, unwashed lemon and a teaspoon of lemon essence to boost the flavour even more,
and lastly, just a little splash of milk to loosed the mixture just a little.
Mix until just incorporated.
Line a cupcake tin with baking cases. This mixture amount should  make 12+
Fill them just over 2/3 full  and put them in an oven at 180° C for approximately 15 – 20 minutes.
Let the cupcakes cool on a rack, then use a short but sharp knife to take a circular plug out of the top
Fill the hole with  lemon curd.
Cut your circular plug in half and set them up right back into the lemon curd so that they look like butterfly wings.  Dust with a little icing sugar on top.
** Please Note, the above image is for illustration purposes only. **
---
Reader's opinions
---