---
Millionaires Shortbread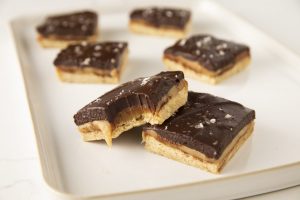 There are three steps to this recipe;
The shortbread base, the caramel middle and the chocolate topping
Ingredients : 
Shortbread –
225g flour
225g butter
100g sugar
100g cornflour
Caramel middle –
175g butter
175g caster sugar
4 tbsp golden syrup
1 can condensed milk
Topping –
Chocolate of choice.
Method:
The first step is to make some buttery, crumbly shortbread. In a food processor, mix butter, sugar, flour and cornflour until you have a sandy mixture that's just starting to clump together and then press this firmly into a loose bottomed cake tin.
That is going to cook for about half an hour – 40 minutes at approximately 170° Fahrenheit until the biscuit is just starting to turn golden.
Now we are going to resist and move on to the gooey caramel layer. Place salted butter, sugar, condensed milk and golden syrup into a heavy based saucepan and heat it gently.
Once everything is melted and the sugar is no longer grainy, you can turn up the heat, just a little, and bubble the mixture gently for about 8 minutes stirring all the time until the mixture is thick and fudgy. The caramel will have darkened a bit in colour. You must stir constantly and vigorously or your caramel will burn.
Pour that molten golden deliciousness onto the biscuit base and we're 2/3 of the way through our recipe.
Now, that needs to cool, and whilst it does we can melt some chocolate
Start by melting the dark chocolate, either carefully in short bursts in a microwave, or over a bain-marie and then pour a nice even layer over the top of your caramel. Then, whilst it's still warm, swirl in some melted milk chocolate and then some melted white chocolate and use a cocktail stick to make swirly patters all over the top of the caramel.
Wait until the chocolate is set, and then cut into small slices – it's very sweet!
** Please Note, the above image is for illustration purposes only. **
---
Reader's opinions
---