---
Sweet Potato Curry :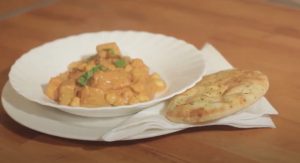 Ingredients :
For the basic sauce:
A tin of tomatoes
Two roughly chopped onions
A piece of ginger about the size of your thumb
3 cloves of garlic
a teaspoon each of turmeric, coriander, cumin and chilli
For the vegetables:
Sweet potatoes  and chick peas
To finish :
200ml block of coconut cream and Salt and Pepper
Method :
My sauce is simplicity itself, but you do need a blender or a food processor because it works best when the sauce is creamed together to make a smooth sauce. If you haven't got a blender or processor then the taste will be there, but you sauce will be a little more chunky.
Put the sauce ingredients into a blender and blend until smooth
Pour into a pan and simmer gently for approximately 25 minutes
In a separate frying pan, gently fry sweet potatoes until golden on the outside and soft all the way through.
Add the sweet potatoes and the tin of chickpeas to the curry sauce and add the carton or tin of coconut cream.
Heat gently and check for seasoning, adding salt and pepper if required.
Sprinkle with fresh coriander and serve with rice or naan breads.
** Please Note, the above image is for illustration purposes only. **
---
Reader's opinions
---