---
Victory Online Recipes – Tarte Tatin
Tarte Tatin.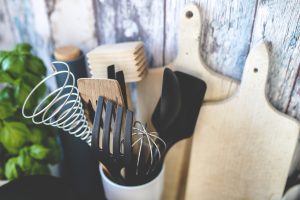 Ingredients.
1 kilo and a half of apples. Choose an apple with a little bit of acidity as well as sweetness.
70g of butter
180g of castor sugar
6oz homemade or a block or roll of readymade, shop bought pastry
Method.
Cut the apples into quarters.
Next, put into a large, oven proof frying pan and heat until the butter and sugar have melted together and is nice and hot.
Next arrange the apple pieces in a spiral pattern, cut side down from the centre of the pan to the outside
Cook gently over a low heat for about 30 – 40 minutes until the apple is soft, the caramel is lightly browned and sticky.
Heat the oven to 190° and take my, now cooked, apples off the heat.
Roll out pastry to about 3mm thick, and carefully transfer the pastry over to the apple pieces and lay it on top. Tuck the pastry down over the edges of the apple so that the apples and sauce are completely enclosed. If you need to trim it a bit to make it look neat, you can do that too.
Pop that into the oven for about 25 to 30 minutes until the pastry is golden!
Take the tart out of the oven when the pastry is beautifully golden. The advantage of cooking a tart upside down like this, is that the pastry remains beautifully crisp and all of that lovely caramel sauce has been trapped underneath with the apples and you shall we now as we turn it out, that we have a most delicious 'toffee apple tart'.
After waiting a few minutes, put a large flat plate over the pan and in one swift movement, invert the pan and there we have a golden, glistening, toffee coated apple tart with a crisp, golden pastry case. Serve with some clotted cream!
** Please Note, the above image is for illustration purposes only. **
---
Reader's opinions
---