---
Victory Online Recipes – Vegetarian Shepherd's Pie
Vegetarian Shepherd's Pie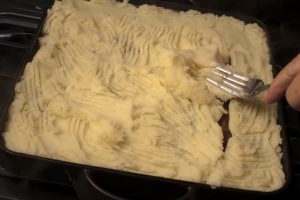 Ingredients.
1kg Good starchy potatoes (like Yukon Gold or Russets)
2 large onions, sliced thinly
Garlic, chopped (optional)
1 large carrot, diced
1 large red pepper, diced
1 heaped teaspoon of smoked paprika.
2 cups red lentils
1 small tin tomatoes
½ veggie stock cube
Hot milk
Butter
Method.
Put your potatoes on to boil
Fry your onions adding the garlic, carrot and pepper once well browned.
Add a heaped tsp. smoked paprika
Put 2 cups of red lentils on to boil, with 4 cups of water
Process a small tin tomatoes in a blender to create a smooth puree and add to the onion/veggie mix. Add the cooked lentils and bring everything to a simmer for 10/15 minutes, adding ½ veggie stock cube or some marmite, as required.
Mash your potatoes adding hot milk, butter and salt to taste.
Transfer your lentil filling to a deep dish and cover with the mashed potatoes.
Sprinkle generously with cheddar cheese and bake for approximately 15 mins to melt.
Serve hot.
** Please Note, the above image is for illustration purposes only.  Credit to Original Photographer **
---
Reader's opinions
---