---
Victory Online Recipes – Victoria Coffee Sponge
Victoria Coffee Sponge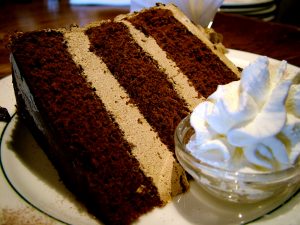 Ingredients:
225g Butter
225g Margarine
225g Sugar (Ideally castor sugar)
4 Large Eggs
225g Self Raising Flour
Flavouring:
Heaped teaspoon instant coffee or Vanilla or Orange essence etc
Icing:
200g Butter
400g Icing sugar
Teaspoon instant coffee
Method:
A Victoria sponge is often made using the 1/1/1 method that is The same amount of fat, sugar and flour. I'm going to use 225g of each, that's approximately 8oz if you like to work in ounces. For the fat content I like to use half margarine and half butter. I find the margarine will lighten your cake considerably and butter gives a better flavour. If I wasn't going to flavour my cake, or I was just going to use a gentle flavouring like vanilla or orange, I would probably use all butter, but coffee cake packs a bit of a punch, so I'm going to use some margarine to help with the texture.
Start by putting the butter or marg and the sugar into a mixing bowl and set that on to mix with a beater.
Once the butter and sugar is nicely creamed it goes a pale colour.
Add the eggs. one at a time and beat them into the butter/sugar mix.
Add the flour a little bit at a time and don't over mix. Overmixing your flour starts to stretch the gluten in the wheat which might cause your cake to become tough or dense and we want a nice fluffy cake!
Add your flavouring. If making coffee cake, dissolve a heaped teaspoon of instant coffee in about a tablespoon of water and given it a stir to dissolve it and add to the cake mix very briefly.
If you don't like coffee you could add your favourite flavour essence, for example orange essence and the grated peel of an orange, or lemon essence and the grated peel of a lemon, or vanilla, chocolate, caramel – the choice is endless – just don't use too much liquid with this recipe.
Heat your oven to 180° c and divide the batter between two 8 inch or 20cm round tins. And into the oven for 30 minutes.
Once cool fill with coffee butter icing and a layer of raspberry jam. You can either add more butter icing to the top, or dust with icing sugar.
** Please Note, the above image is for illustration purposes only. **
---
Reader's opinions
---