---
Flavour Of Fratton
With Chris Rider & Chrissie Pollard
Victory Originals
Flavour of Fratton - Sunday April 17th
Join us Chris Rider & Chrissie Pollard as we get together for 2 hours on Easter Sunday.  From 10 am we will be talking about the time we spent behind the microphone during the 70's & 80's at Radio Victory.  We also spent some time together in the Newsroom, on the road and many a good evening in studio 5, (the pub next door).
We will be trying to widen Memory Lane into a motorway - although probably not a very smart one. We'll be talking about what Portsmouth used to be like (wot arre yew loike…) and recalling some of the names of people well known in the city in the 70s.
What it was like to be working for such a popular station, and how we all felt when the IBA pulled the plug on us.
What some of us have been doing since then, and what does the future hold for what was fondly termed ILR at the time. All the music comes from the time of 257. We'll be asking whether community stations are a good replacement for the larger ones. And the unthinkable one - do we need commercial radio any more with everything now on streaming and voice command? (Of course we do!).
All very light-hearted though!
We haven't worked together in the same studio for many years, we are though looking forward to it.
The last time we actually set foot in the same studio at one of the Radio Victory's was back in the early 1990's during the 1st RSL.  You may remember some of the people in this picture. Chris Rider, Maggie Coles, Dave Christian & Chrissie Pollard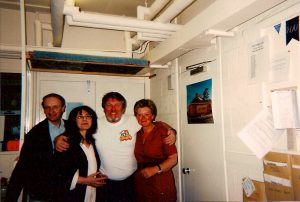 If you remember Outlook, Trends, Tradio and many more of the programmes from the start of Victory back in 1975, then it would be great if you could join us from 10.
If you missed any of the show, or you simply want to  "Listen Again" click the play button below for Victory Originals.  
---
Read more
---
Flavour Of Fratton crew
---
Chrissie hosted a variety of shows on Radio Victory from the mid 70's, before heading off to TVS.  She could often be heard following the breakfast show with a programme called "Trends", a magazine style show with daily advice , guests and listener phone-ins.  Chrissie would often present a late night phone-in programme too, with […]
Chris Rider – dabbling in DAB Don't worry – most of the time I haven't heard of me either, but apparently checking my pulse I'm still breathing.  For anyone asking – Chris who? I was part of the original Radio Victory in Fratton Road in the Seventies. It all began for me with a somewhat […]
---