---
---
Neil Crespin shows
---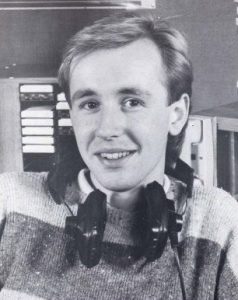 Neil joined Victory in 1983 to present the Saturday evening show, before landing the Monday to Friday 6pm to 8.30pm slot and Saturday breakfast. He presented the last ever breakfast show on the station before the famous final broadcast!
After Victory he presented at stations across the south including 210 in Reading and Southern Sound in Brighton.
In 1987 he moved to London following a job offer from LBC, where he stayed until 1992, in a role that saw him produce the stations Breakfast and mid morning shows working with industry legends such as Douglas Cameron and Michael Parkinson.
During that time he continued to have an on-air presence in the South too, presenting the weekend breakfast shows on Power FM until 1995.
Having set up his own creative agency in London in 2001 – MCM Creative Group. They produce events, conferences and productions for multi national companies such as HSBC, Oracle and Alibaba. He personally presents and produces many of the live events and podcasts MCM deliver for its clients.
He now lives just outside Winchester with his wife Nicky and their cockapoo puppy Paddy!
On re-joining the 'new' Radio Victory Neil said: "I can't wait to get started again! Victory has such a special place in heart from all those years ago. The people – our listeners- were amazingly loyal. I still have many friends in the area from those days, and getting back on air with that Victory name and sounds behind us will be a great boost to the city of Portsmouth and surrounding area"
"Radio has changed for the worse in my opinion and I can't wait to get the blend of nostalgia with modern day just right for our new and old listeners alike"
---