---
---
Peter Smith shows
---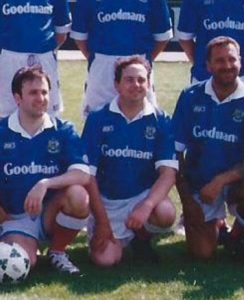 Born in Portsmouth, lived in Gosport. Married Sue after meeting her on a Radio Victory RSL in 1995. Have family including grown up children and one grandson living  in the area.
First thoughts of radio, aged 11, after my RE teacher loved my 'News at Ten' mimic when doing a 'Christmas story' sketch. Joined Portsmouth hospital radio as a teenager in the 1980's before being part of Radio Victory revivals and cable radio.
In his 25th year since getting his professional Broadcast journalism qualification (Highbury, June 97), he qualified in the same class as Radio 2 newsreader Justine Greene!
Peter has worked on radio stations across the South and West including as a presenter, news and sport editor roles at Wessex FM and Bath FM, working for BBC 5 Live Sports Extra, and stadium announcer for the Pre Olympic Test event including hosting medal ceremonies. Was one of the original team at Lords for a new service of special cricket commentaries for visually impaired followers.
Once stopped Alastair Campbell taking my mobile phone which rang while mid interview with Tony Blair during 2001 general election campaign, telling him 'I'll deal with this.' I then said to the caller, 'Can't talk now, I'm with the Prime Minister!'
Currently I'm a freelance football commentator, reporter and non league football for the BBC.
My musical taste is pop & soft rock from 70's to 2000's with some of today's hits (not into grunge garage or rapping).
Favourite artists wide ranging; ABBA to The Who, Florence & the Machine to Queen (especially old stuff), Supertramp to Katy Perry. Like musical theatre, eg Hairspray, saw Mamma Mia stage version in Plymouth and Riverdance in Poole.
Would love to see 'Tommy' again.
---